Day tour to Galle from Colombo Port
Day trip to Gallefort & stilt fishermen
Tour Description: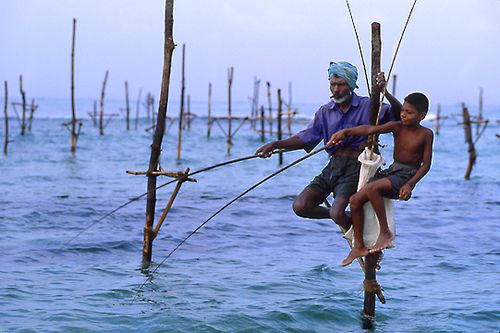 PROGRAMME : A DAY SPENT IN GALLE (a Day tour to Galle from Colombo Port)
PERIOD : NOV 2018 – APRIL 2019
A modern history sparked by a storm, dying tradition, artifacts collection, lunch, "oldest-in-Sri-Lanka" church, and more fill your Galle day. It's approx. 02 ½ hour drive to see iconic stilted fishermen balancing on a "petta" crossbar, a dying tradition in the Isle. See the Folk Museum and its artifacts collection representing Sri Lankan history and culture. Enjoy a lunch at Jetwing Lighthouse Hotel. Experience historic Galle Fort, and 18th century Dutch Church, Sri Lanka's oldest Protestant Church. Your tour takes about 08 ½ hours.

Highlights:
• Watch "stilted" fishermen use a dying fishing method; then visit Folk Museum with 1,000
centuries-old artifacts.
• Explore Portuguese-built Galle Fort conquered by the Dutch, today the best example of 17th
century fortifications in the world.
• See the 1755-built and consecrated Dutch Church – Sri Lanka's oldest Protestant church.

Important Notes:
• Consider physical fitness and medical history, when selecting this tour.
• Tour involves walking about 850 yards over flat terrain; and steps to negotiate with.
Timed Itinerary – 09 Hrs
0830 Hrs Depart the Pier and leave to Galle.
1100 Hrs Arrive in Koggala & witness stilt fishermen at the sea.
1115 Hrs Arrive at Martin Wickremasinghe Folk Museum.
1200 Hrs Depart Folk Museum to Jetwing Lighthouse Hotel for Lunch.
1230 Hrs Arrive at the Hotel for Lunch.
1330 Hrs Depart Jetwing Lighthouse Hotel & drive to Galle Fortress.
1400 Hrs Arrive near the entrance to the Galle Fortress, get down from the coach & walk through walled city, over the rampart, view Dutch Church & have some leisure time.
1530 Hrs Depart from the Galle Fort & drive back to Colombo.
1730 Hrs Arrive at the pier at Colombo Port.
Starting from USD USD 330 per person