Globes Travel | Goa Private excursions
Welcome to the Cruise Port Guide Goa – India. The cruise port of Goa lies in Mormugao. This small town lies in the state of Goa which is India's smallest state. It is a famous destination best known for its beaches, Portuguese history and hippies! Goa has a great climate, beautiful hills and a strong history which makes it completely different from the rest of India. In 1510 Alfonso Albuquerque's fleet arrived on the shores of Goa. He identified Goa as the perfect base for the expansion of his maritime empire. In the next 150 years Portugal would blossom, build an empire, claim the power and spread christianity. The Portuguese build over 300 churches which still stand today. These buildings stand witness to the 451 years that the Portugese would have control on this part of IndiaGoa shore excursions revolve around this tiny tropical paradise of India. We get you the best of Goa within the duration of your stay. The two most prominent destination of this emerald state are Cansaulim Beach & Goa's Chitra Museum. Cansaulim beach is the most tidy and cleanest beach of Goa which is adorned with shimmering Golden sand, swaying palm trees holding a picturesque landscape. It offers amazing beach activities that are full of fun and excitement. The Chitra museum is ethnographical museum housing over 4000 artefacts. Margao Market is the most vibrant market of Goa which serves as another prominent attraction of Goa. You'll get to explore all of this with some other attractive places as well during your shore excursion from Goa.
This private and personalized shore excursion is the best option to beautify your cruising experience in India. You'll enjoy a personalized vacation rather than sitting on a coach with other people. We will assure you that you won't regret choosing our shore excursions rather you have a memorable holiday experience to cherish for life.
Goa Heritage Tour With Spices Plantation Visit
Goa Heritage Tour With Spices Plantation Visit
Tour Description: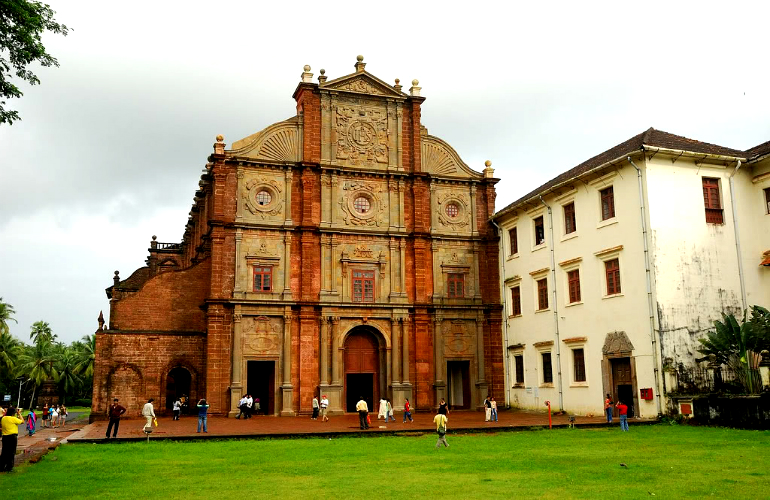 You will be welcomed by Globes Travel representative & your private guide at the port, Your tour begins with Shri Manguesh Temple A beautiful temple dedicated to Lord Shiva located on a Hillock. The 400-year-old temple is known for its elegant structure and the pillars which are considered to be the most beautiful among the temples is Goa. A beautiful seven-story Deepa Stambha (decorative lamp tower), stands at the gates in the temple complex. Then on to Shree Shantadurga Temple Set ami...
Starting from USD USD 100 per person