Enjoy Train ride on VIceroy train to Pinnawela
Day trip to Pinnawela Elephant Orphanage
Tour Description: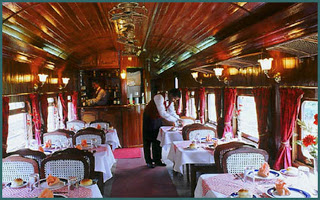 Programme : PINNAWELA ELEPHANT ORPHANAGE
Period : NOV 2018 TO APRIL 2019
For this excursion, you will experience both a wonderful destination and a memorable ride on a restored 75-year old train, once used by the last viceroy of India, enjoy the scenic return journey back from the Pinnawela Elephant Orphanage, where you will become acquainted with some of the 70 or so animals that call this special reserve home. Leave the city behind in your search for the heart and soul of this special island – this teardrop shaped emerald off the coast of India. A 3½ hour drive takes you to the Pinnawela Elephant Orphanage for a visit you will surely never forget. The orphanage was created to care for baby elephants found abandoned or orphaned. The animals have found a comfortable and safe home here; they are fed and looked after, trained and studied by the Sri Lankan Wildlife Authority. Once acclimatized to this protected lifestyle, the elephants are unable to return to the wild, and so grow up and reproduce here at the reserve.During your visit, you may see very small babies among the ever-growing family. Most definitely, you will learn about the efforts being made to care for these magnificent animals, as well as the ongoing battle for the conservation of their native habitat.Watch the spectacle of Elephant bathing in the river from the verandah of the River View Restaurant, where you will relax over an early lunch.
Important Notes: It is recommended that guests wear sunscreen, sunglasses, a hat and flat, comfortable shoes. Tour duration may extend or shorten depending on the passage given to the train on day of operation. The order and timing of events may vary depending on the time of the ship's call and the elephants' feeding (Subject to availability on the day of visit) and bathing schedules. The River View restaurant is not air conditioned. Elephants at Pinnawela are not fully tamed, therefore, guests should avoid proximity with the animals.
TIMED ITINERARY – 08 Hrs
0830 hrs
Depart pier at Colombo Port by coach to Pinnawela (15 minutes comfort stop could be made enroute).
1130 hrs Arrive at Pinnawela, visit Elephants at the Orphanage.
1230 hrs Shift to the river side to witness elephant bathing in the river.
1300 hrs
Enjoy Lunch at a river view restaurant.
1400 hrs Transfer from Pinnawela to Colombo
Starting from USD USD 315